Nsfas application opening and closing date 2023-2024
Nsfas application opening and closing date 2023-2024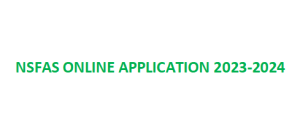 Nsfas application opening and closing date 
Every application has its opening and closing date for applicants. The documents below shows the opening and closing dates for the National Student Financial Aid Scheme (Nsfas).
Before knowing the opening and closing date for nsfas, kindly the general instruction for the scheme to avoid rejection of application.
Nsfas General Instruction for Applicants
Note. Before filling out the application form, please read the following notes carefully. Make sure you read all of the sections and that the information you supply is correct.
Every page of the application form, as well as every page of all supporting documents, must have your identity (ID) number written in the top righthand corner.
NSFAS will not process application forms that do not include ALL supporting papers.
Only the first application received by NSFAS will be processed. Please do not submit multiple applications unless NSFAS specifically demands it.
NSFAS need either a cell phone number or email address in order to communicate with you during the application process. If you do not already have an email address, you can create a free email account on Google at www.gmail.com, or on Yahoo at www.yahoo.co.za or any other free email service.
If your application is approved, NSFAS will pay portion of your student allowances via cell phone vouchers using the cell phone number you provided on the application form.
Please open a bank account with any bank, such as Postbank, ABSA, Capitec, FNB, Standard Bank, Nedbank, or others, if you do not already have one. Some student allowances will be deposited directly into your bank account.
Nafas Online Application dates
NSFAS Applications are now open for 2023. Apply for NSFAS Funding from September 28, 2022. Applications for 2023 will now close on 31st January 2023. Students seeking financial assistance should endeavor to finalize and submit their applications at the earliest opportunity. New Applicants should visit (ejobsa.com) this site regularly for 2024 Online Application date
Click here for Nsfas Online Application
NSFAS RELATED LINKS
Nsfas Wallet
How to apply Nsfas
Nsfas application forms
Nsfas application status
Nsfas Supporting documents
Nsfas Application Requirements
Nsfas Application Instructions
Nsfas application opening and closing date
For more info visit Nsfas Website