Nsfas Application Requirements 2023-2024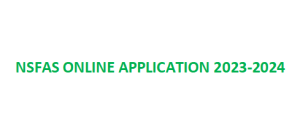 Nsfas Application Requirements 
About Nsfas
The National Student Financial Aid Scheme (NSFAS) is a government agency within the Department of Higher Education and Training that was established in 1999 under the NSFAS Act (Act 56 of 1999) to provide financial aid to disadvantaged students wishing to continue their education at public universities or TVET colleges.
Application Requirement
Every Online application requires requirements from applicants. The listed below are the Nsfas requirements needed from applicant when applying for financial support.
Application requirement expected from applicants
To avoid rejection from the nsfas board, applicants should ensure that they meet the following minimum entrance criteria before applying:
South African citizen
Receive a SASSA grant
Total household income is R350 000 or less per annum
Applying to study at a TVET College or public university
Already registered as a university student with a total household income of under R122 000 per annum
Passed grade 9 and grade 10 to receive funding to study at TVET College
Passed Matric to receive funding to study at University
Registering for your first time at a public university for an undergraduate qualification or registered at a public

TVET College

for a National Certificate Vocational/ report 191 programme
Read also on nsfas application instruction
Don't apply if you meet the following criteria:
Foreign student (NOT a South African citizen)
Total household income is over R350 000 per annum
Completed a previous tertiary qualification
Already applied and received funding
Who is eligible for NSFAS funds?
The listed below show applicant who qualifies for nsfas funding.
All South African citizens
All SASSA grant recipients qualifies for funding
Applicants whose combined household income is not more than R350 000 per annum
Person with disability: Combined household income must not be more than R600 000 per annum
Students who started studying before 2018 whose household income is not more than R122 000 per annum.
Click here for Nsfas Online Application
NSFAS RELATED LINKS
Nsfas Wallet
How to apply Nsfas
Nsfas application forms
Nsfas application status
Nsfas Supporting documents
Nsfas Application Requirements
Nsfas Application Instructions
Nsfas application opening and closing date
For more infomation visit Nsfas
Website